DRIVE WITH CONFIDENCE.
WE'VE GOT YOU COVERED.
Geoff Stigler, Chief Commercial Officer, shares equipment repair costs on Arrow's Successful Driver podcast.
The Leader in Used Truck
Extended Warranties Since 1983
National Truck Protection (NTP) has been serving the medium-and heavy-duty used commercial truck industry with quality and reliable aftermarket warranty programs longer than any brand in North America. Single truck and small fleet owner operators trust NTP to stand behind their programs. You won't find us hiding behind them, looking for ways to not pay for a repair. We pay tens of millions of dollars in repairs every year to quickly and safely get our customers back on the road where they can earn a living.
Used trucks will have equipment failure, it's inevitable. Some will cost a couple hundred dollars while other repairs can be catastrophic, costing tens of thousands of dollars. But no matter what the damage, if you have equipment or a part that fails and it is covered by the NTP warranty you bought, we'll pay for that repair. It's that simple.
You don't know WHEN you'll need us. So our experienced customer service team are available by email, phone or through your personal self-service portal to take care of you. You don't know WHERE you'll be so we'll help find you a repair center in our network of over 5,300 shops that's convenient for you. Then, we'll work with their mechanics to review WHAT your problem is and get your covered repairs started so you can get back on the road. It might sound cliche but, we're in business to keep you in business. That's why we say, we're with you every mile.
COSTS OF REPAIRS – CLASS 8 TRUCKS
THE HIGH COST TO REPAIR ONE MAJOR EQUIPMENT FAILURE COULD PUT YOUR BUSINESS IN JEOPARDY. AN NTP WARRANTY WILL PROTECT YOUR BUSINESS, YOUR INVESTMENT, AND YOUR LIVELIHOOD.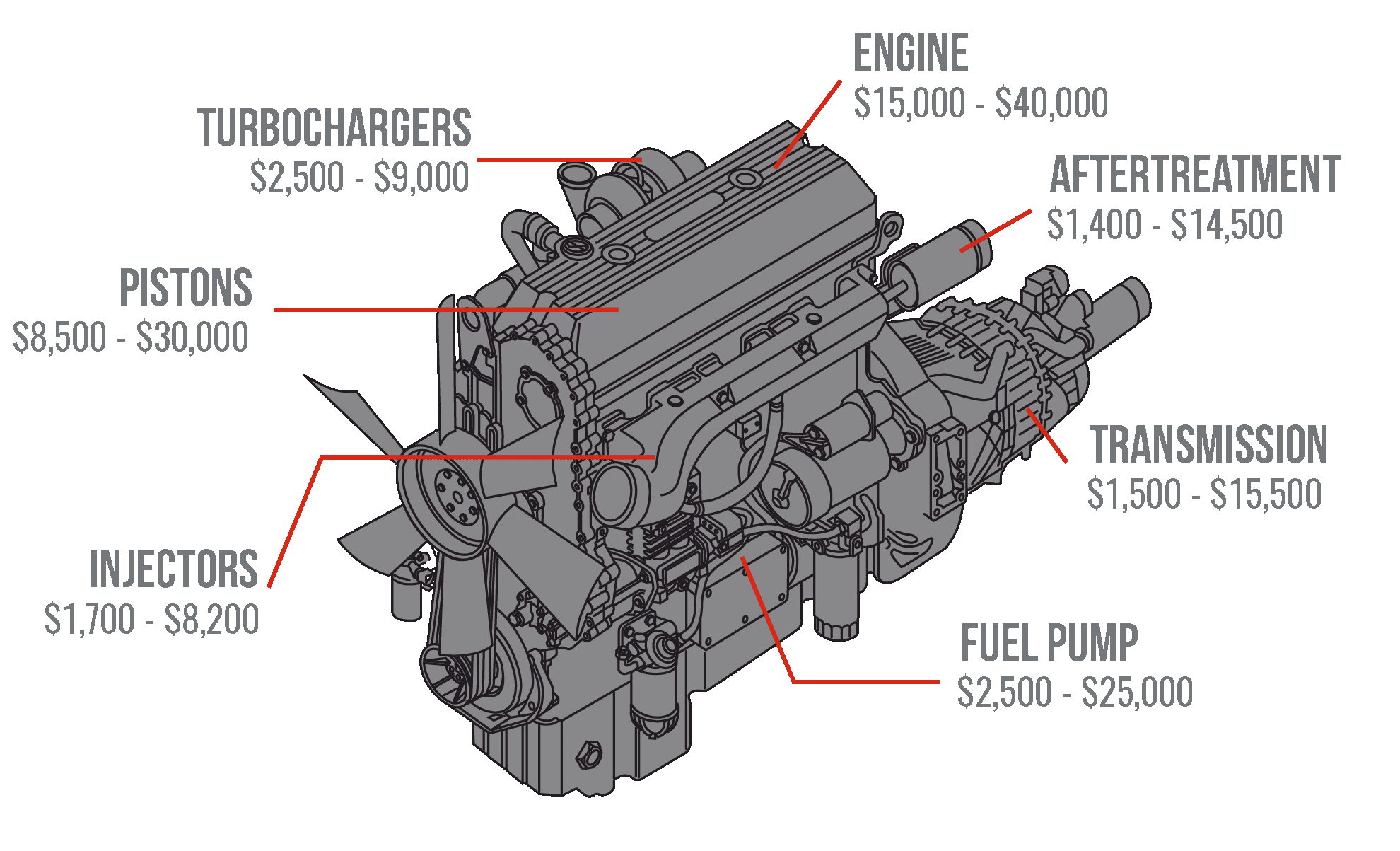 *Source: Actual claims paid by National Truck Protection Co. Inc. © 2022 NTP Co
THE DIMENSIONS OF A WARRANTY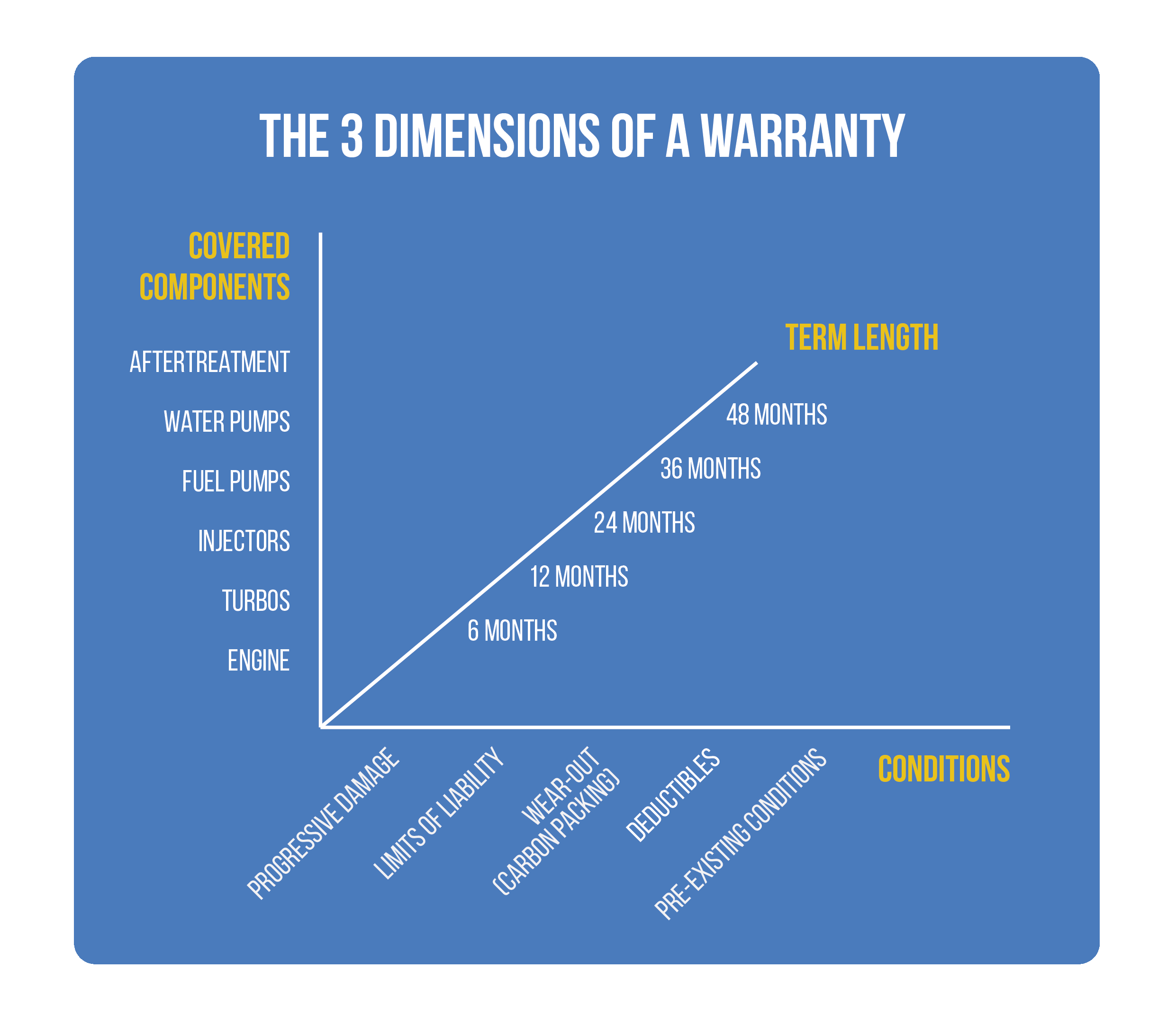 *Covered components and conditions vary by program.
Don't risk not being covered when your used truck has a major equipment failure. Look to NTP to protect your truck, your business, your livelihood.
Aftermarket extended warranties offer a variety of programs that cover repair costs for critical truck components and equipment beyond the original equipment manufacturer's initial term. Buying this coverage provides essential protection as trucks grow older and gives you peace of mind that when a failure occurs. But choosing the right warranty can be tricky, so understanding the basics is very important.
Warranty protection can be simplified into three key areas:
For choosing the components you want to cover, think of your truck's age and miles, the history of previous repairs (if you know), and how you use it for work. You want to cover it for catastrophic failures that can cost you tens of thousands of dollars. Without that coverage, you could find yourself without a truck, and maybe without a business. Covering major equipment like engine, aftertreatment systems and critical components is a must. 
The term you choose really depends on how old your truck is and how long you'll keep it. One thing you should know is that buying a longer-term warranty can save you thousands of dollars because a second or third year is much less expensive than the first year. So if you can, buy a 24- or 36-month warranty.
Also, look closely at the conditions. What are your limits of liability on major parts? What deductible amount do you pay for each repair occurrence? And finally, how are progressive damage and wear out covered? Not all warranty programs are created equal, and understanding the options can get confusing. But always remember that a warranty is protecting your investment, your business, and your livelihood. Don't take the risk of not being protected.
NTP offers three warranty programs designed to meet every customer's need, from the most comprehensive to the most basic.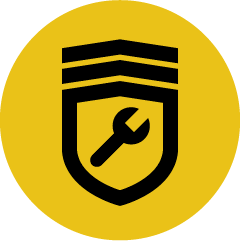 Our most comprehensive warranty program, offering NO LIMITS ON REPAIR COSTS for most major components, more comprehensive coverages on progressive damage and wearout. You won't find a better plan in the industry.
Just a step below the ULTRA 2 program, but with generous limits of liability and over 100 major components covered, it's our most popular warranty.
This program is the most basic coverage for engine, aftertreatment and critical components. It's the minimum coverage any truck owner should have to protect their business.
"NTP has been a stand up partner for us in this first year with our truck. We strive for impeccable maintenance and record keeping. When we have a problem, we have it checked out ASAP. I would surely recommend these guys and if the time comes again and we're looking to buy again, they will be our first consideration."
"Want to thank your company's claim adjuster for processing my claim under warranty. Such a quick response and taking care of business in such a short time is highly appreciated, especially in these difficult times…"
"When a customer comes in with a really bad repair, the last thing they want is for the claims approval to drag out. They want to get back on the road. NTP does a great job at standing behind their warranty, approving repair costs quickly and staying in touch with the customer."
JESSE
CENTRAL TEXAS RIG REPAIR
Three easy ways to submit a claim or get help when you need us:
READY TO TAKE THE NEXT STEP?