DRIVE WITH CONFIDENCE.
WE'VE GOT YOU COVERED.
Watch Our New 2 Minute Video.
HAVING A WARRANTY IS KEY TO BEING A SUCCESSFUL OPERATOR
We Are the Advocate of the Owner Operator
Being an owner-operator of a single truck, or a fleet is challenging. You must manage your loads, your schedule, your business, and your personal and family time. You also have to take care of your truck, because without your truck, you don't have your business. That's where NTP comes in, to help you protect your truck, your business, and your livelihood.
Since we started in 1983, we've made it our business, our pledge, to take care of the owner-operator with the best, most comprehensive aftermarket warranties in the industry. So, when you have a major equipment failure, you have peace of mind that if your warranty covers that failure, we'll pay to get it repaired. Not all warranty companies will say that, but we don't just say it, we do it by paying tens of millions of dollars in repair claims every year. As the advocate of the owner-operator, our dedicated team is here every day to help you when you need it most. That's our promise.
Your Business Is Our Business
THE DIMENSIONS OF A WARRANTY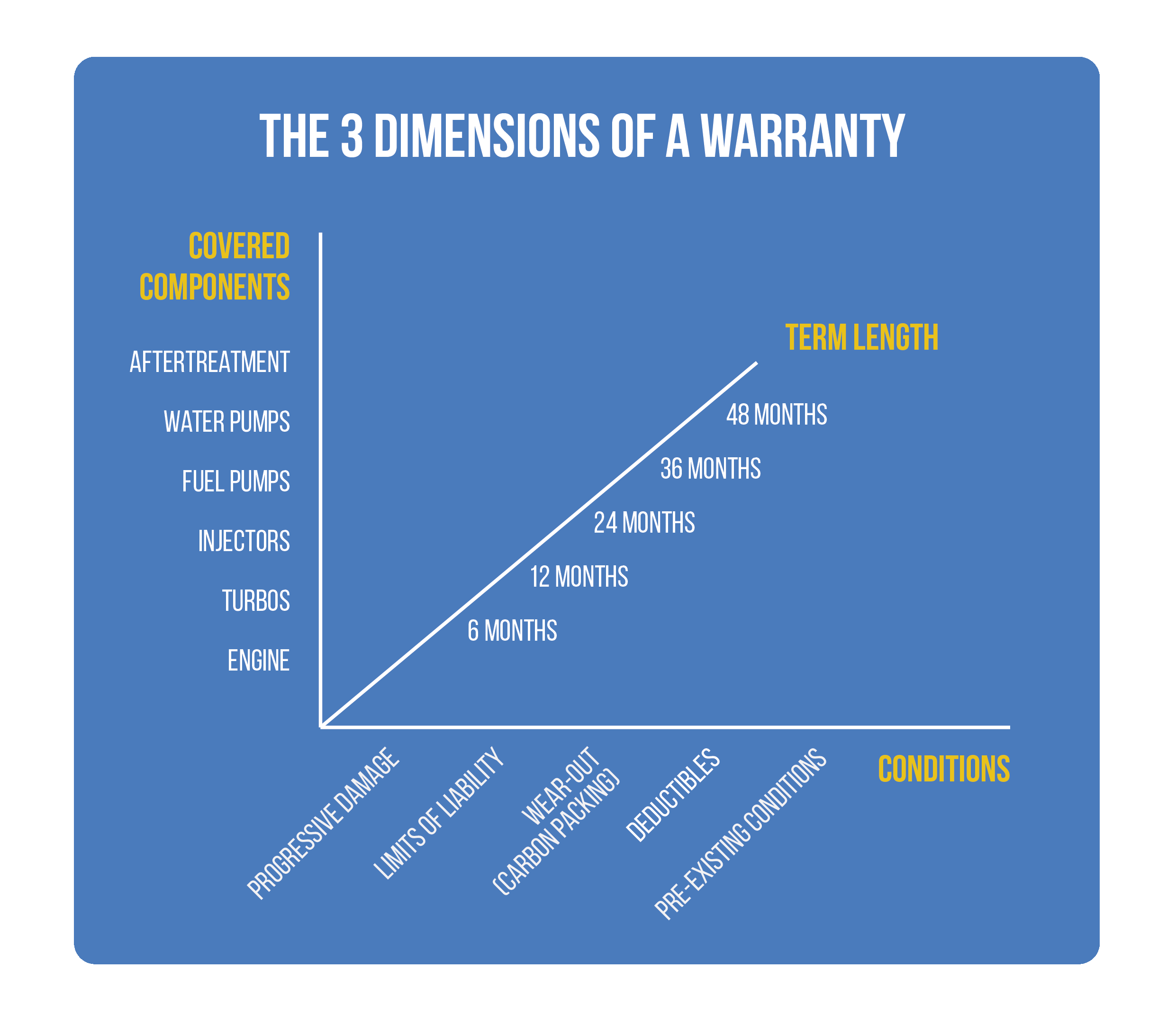 *Covered components and conditions vary by program.
Don't risk not being covered when your used truck has a major equipment failure. Look to NTP to protect your truck, your business, your livelihood.
Aftermarket extended warranties offer a variety of programs that cover repair costs for critical truck components and equipment beyond the original equipment manufacturer's initial term. Buying this coverage provides essential protection as trucks grow older and gives you peace of mind that when a failure occurs. But choosing the right warranty can be tricky, so understanding the basics is very important.
Warranty protection can be simplified into three key areas:
For choosing the components you want to cover, think of your truck's age and miles, the history of previous repairs (if you know), and how you use it for work. You want to cover it for catastrophic failures that can cost you tens of thousands of dollars. Without that coverage, you could find yourself without a truck, and maybe without a business. Covering major equipment like engine, aftertreatment systems and critical components is a must. 
The term you choose really depends on how old your truck is and how long you'll keep it. One thing you should know is that buying a longer-term warranty can save you thousands of dollars because a second or third year is much less expensive than the first year. So if you can, buy a 24- or 36-month warranty.
Also, look closely at the conditions. What are your limits of liability on major parts? What deductible amount do you pay for each repair occurrence? And finally, how are progressive damage and wear out covered? Not all warranty programs are created equal, and understanding the options can get confusing. But always remember that a warranty is protecting your investment, your business, and your livelihood. Don't take the risk of not being protected.
COSTS OF REPAIRS – CLASS 8 TRUCKS
THE HIGH COST TO REPAIR ONE MAJOR EQUIPMENT FAILURE COULD PUT YOUR BUSINESS IN JEOPARDY. AN NTP WARRANTY WILL PROTECT YOUR BUSINESS, YOUR INVESTMENT, AND YOUR LIVELIHOOD.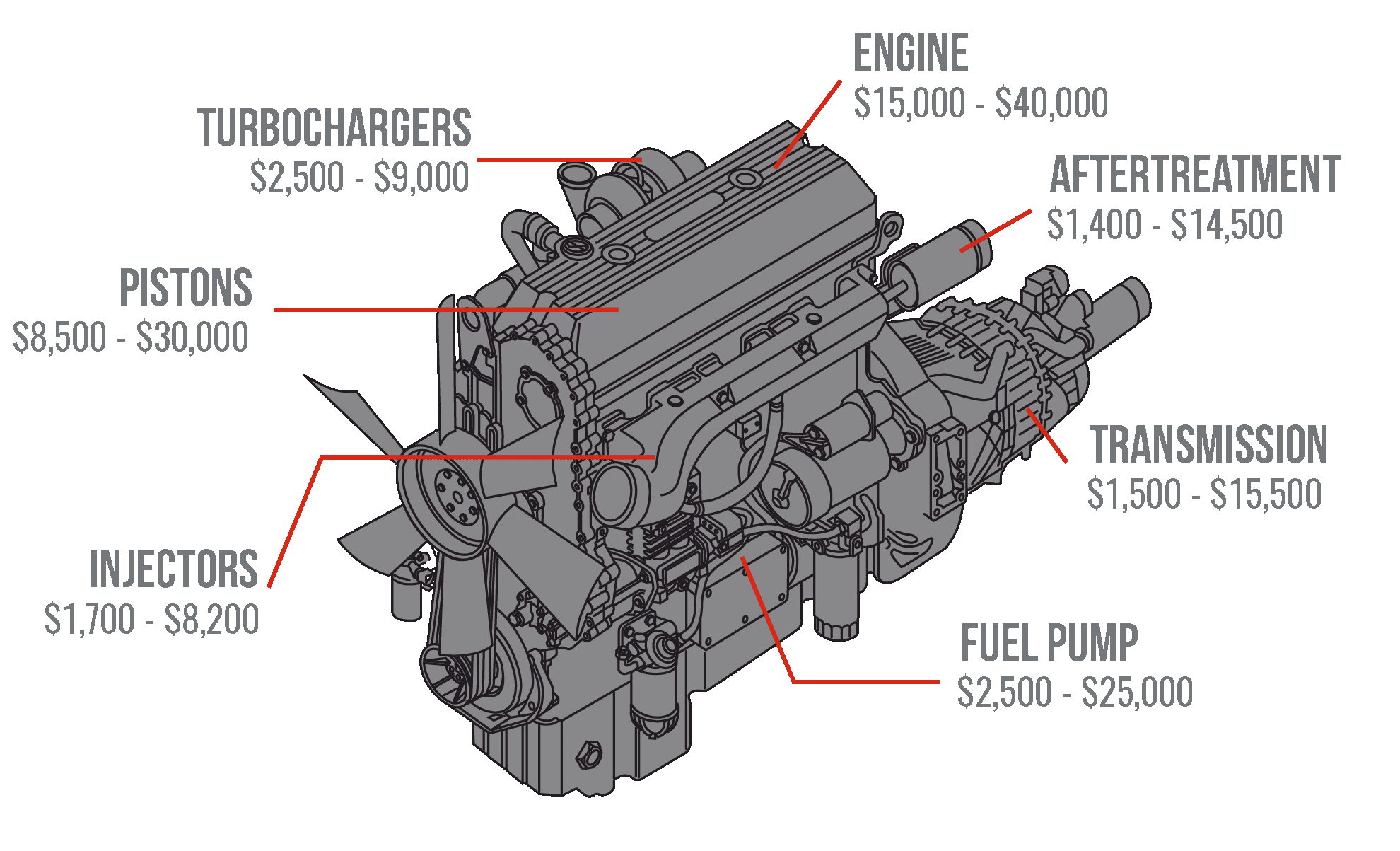 *Source: Actual claims paid by National Truck Protection Co. Inc. © 2022 NTP Co
NTP offers three warranty programs designed to meet every customer's need, from the most comprehensive to the most basic.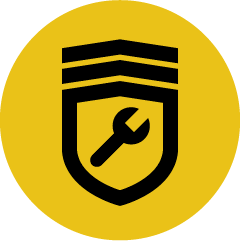 Our most comprehensive warranty program, offering NO LIMITS ON REPAIR COSTS for most major components, more comprehensive coverages on progressive damage and wearout. You won't find a better plan in the industry.
Just a step below the ULTRA 2 program, but with generous limits of liability and over 100 major components covered, it's our most popular warranty.
This program is the most basic coverage for engine, aftertreatment and critical components. It's the minimum coverage any truck owner should have to protect their business.
What NTP Customers Say About NTP
The #1 Most Trusted Warranty Brand, Since 1983

"I am very thankful I choose to purchase the NTP warranty. I had to have the head replaced and the injectors. Was almost a $20,000 dollar repair. I was only out of pocket for the deductible. What a blessing it was to have NTP."

"NTP proved to be a great ally in my time of need concerning my truck repairs. They were straight forward, persistent, and they even assisted me in communicating with the repair shop to get them on the ball ASAP! I have no complaints I don't feel hustled or taken advantage of. I'd say their coverage is well worth the investment."

"I just had my first experience with NTP. I had my doubts when shopping for an extended warranty because I had read so many comments about how they will do anything to avoid paying a claim, calling it pre-existing or driver negligence. But my first experience, encountered ONE WEEK AFTER GETTING COVERAGE, was the absolute fulfillment of NTP's promise. Peace of mind and when I sell my truck, I'll be able to transfer the remaining warranty to the new buyer. Wow, I'm amazed!"

"It was a magnificent choice buying this extra protection. It saved me a lot of money on a DPF repair."
Looking for a Used Truck at a Dealership?
Be Sure to Ask About an NTP Warranty
Need to Renew Your Current NTP Warranty?
Do You Own a Truck and Need a Warranty?
Three easy ways to submit a claim or get help when you need us:
How Else Can We Help You?